Anyone working on fractions with kids in grades 1-3? I recently found a fun and free computer game that is great for students who are working on exploring part whole relationships. It is called
Fraction Flags
and it a lot of fun. Check it out!
A peek at the home screen. By using the arrows near the bottom of the page, you can select a few options for students. They can design flags using different combinations of halves and quarters.


Students can be as creative as they want. While enjoying the creative process they are also being exposed to some of the bigger ideas around fractions like part whole relationships and equivalency.
By giving kids multiple designs to make and allowing them so share their designs with others, students can see many ways to make fractions such as one half.
I love having students build this one with all fourths because it is a great way to expose kids to the idea that the pieces do not have to be congruent to be equal fractions.
If you are doing basic fraction work with students, this is a game you might want to bookmark for later!
Looking for more fraction fun?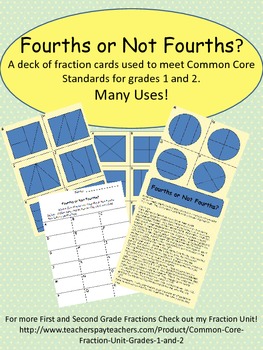 Grab this free game to play with your students before or after trying this computer game. It makes a great math center or scoot game!
You might also be interested in:
Do you have a favorite fraction game? Tell us more in the comments below!